There is a difference..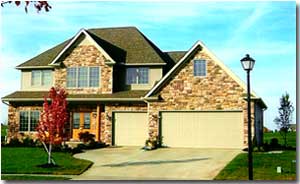 "We have been in our home since December, 2004, and absolutely love it! Jim Tipple, owner of Maranatha Custom Homes, was very flexible and cooperative during the building process whether it was changes to the plans or accommodating us during an earlier move-in date than scheduled. Jim or a member of his crew handled any problem we had along the way quickly and courteously. During the building process we felt their attention to quality was as if thy were building their own home. Some of our friends have built with other builders and many of the complaints they had with their builders were never a problem for us. - Mike and Eileen S. , LaGrange, Ohio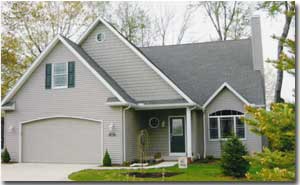 Our custom home was just finished and we couldn't be more pleased with it or the quality of workmanship. During the construction, Jim and his crew were very good about making suggestions to improve design and structural components, and all of their ideas were greatly appreciated. They are truly custom builders and craftsmen who care how a home turns out. Building a home can normally be quite traumatic and frustrating. Thanks to Jim and Lynn Tipple and their crew, it turned out to be very pleasant and exciting. Whether we were asking questions of Jim or Lynn, our questions and needs were always taken care of in a timely and pleasant manner. - R and D. N., Huron, Ohio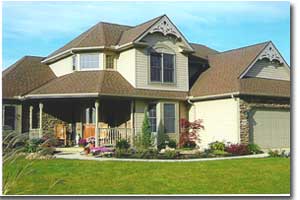 My wife and I had never owned a house before so we were a little nervous when we decide to build and began our search for a location and a builder. We visited a number of housing developments and saw some nice houses, but when we asked about the materials, prices, or changes in the house plan we were always told "We'll get back to you." Sometimes they got back to us and sometimes they did not. It became clear to us that the people we talked to in the models were about five layers removed form anyone who could make a decision or answer our questions.

When we met with Jim and Lynn Tipple of Maranatha Custom Homes, our questions were answered immediately which helped us make up our mind about the location we wanted, the home we wanted and who we wanted as our builder. Maranatha Custom Homes was our choice because of the personal attention they provided. The building process was very smooth because Jim Tipple plays a very personal role in every home he builds. He was there to insure quality, make recommendations to us, and respond to our thoughts and suggestions. We are very pleased with the quality of our home and our ongoing relationship with Maranatha Homes.
We would without hesitation recommend Maranatha Homes to anyone looking to build a new home. - Dave and Penny W. , LaGrange, Ohio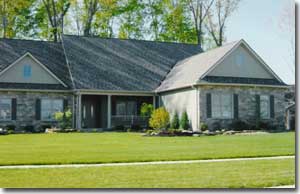 When we decided to build a home last year, we chose Maranatha Custom Homes because of their excellent reputation. During the building of our new home, there are many questions, but Maranatha Custom Homes guided us through the process easily. They were available and patient at all times to answer any questions and help with changes. We would recommend Maranatha Custom Homes because of their integrity and vision. - John and Lennie A, Lagrange, Ohio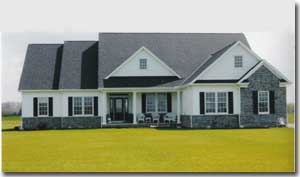 We are very pleased with our new Maranatha Home. My husband and I worked with other builders before, but they cannot compare with Maranatha Custom Homes.
Jim Tipple and his wife Lynn, are very honest and are easy people to work with. Jim makes your desires and needs regarding your new home a priority. My husband was very impressed with the structural aspects of our home and I am also pleased with the esthetics and beauty of our home. Our home turned out exactly how we had envisioned it.
I would suggest Maranatha Custom Homes to anyone who wants a custom home and professional, easy people to work with. - Dave and Sandy D., LaGrange, Ohio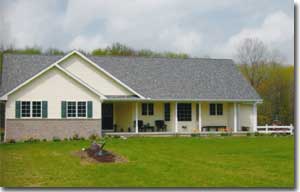 My wife and I were living in the Philadelphia area, but wanted to retire back here in Ohio. We had selected plans for a home and had the land to build on when Maranatha Custom Homes was recommended to us. Over the Christmas holidays we met with Jim Tipple, Owner of Maranatha Custom Homes, and within weeks we had signed our contract. Basic selections for colors, styles, mechanicals, etc. were made and the project was underway. We returned only once in May for the electrical walk-through. There had been phone calls and letters asking and answering questions of style and color but no on-site participation by us.
When we arrived in August, the house was ready for is and exactly as specified. Reliability is the key when engaging in a project like new home construction. Jim, Lynn and the whole Maranatha Custom Homes team justified fully the faith we placed in them. As a bonus we received the most pleasant and cordial treatment we could have ever expected. - Randy and Deborah L., LaGrange, Ohio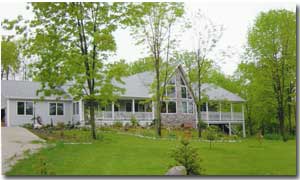 " After hitting and missing with three inept builders, finding Jim Tipple, Maranatha Custom Homes, was the best thing to happen to us.

Jim was your typical guy next door. He explained all that he was going to do and did it in simple layman terms. The quality of workmanship of his crew shows dramatically in his finished product. They did not mind at all whenever my wife and I showed up at the jobsite. I distinctly remember a corner they were framing in my loft that took the better part of a day until they were satisfied.

I have many more things I could say but space does not permit. I can only give and pass along my recommendation to anyone contracting with Maranatha Homes." -J.H., Spencer, Ohio



Next Page